Product Details Inquiry Contact Us
Five Advantages Of Products
seasonable quality fomula to meet the different whether
lightweight and stackable
easy installation
multi-function design service
Durable and cost-effective to steel material
Product Details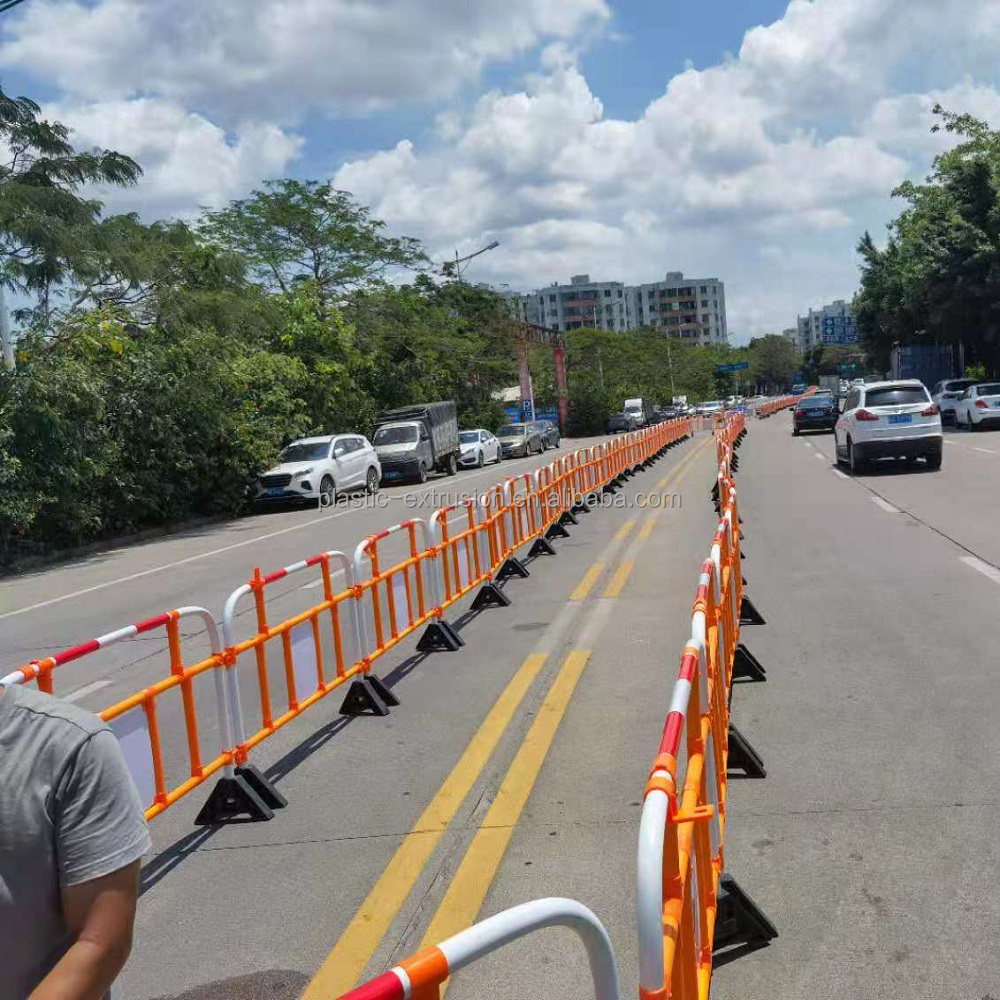 Description:
Product name : Plastic pedestrian barriers
Manufacturer: Dongguan Shangyu plastic hardware products Co.,ltd.
Material:environment-friendly PVC ,calcium carbonate ,other additives
Item standard dimensions:H:1000mm*W:1000mm/1500mm/2000m
39.37" H * 39.37"/59.1"/78.74" W
Weight(standard):1.5m barrier :8.76kg(19.312Ibs)/unit; 2.0m barrier :9.7kg(21.385Ibs)/unit
Color: Available in Red, blue, yellow, orange.yellow-white option & customized.
Packing: plastic bags/cartons,plastic wrap,seaworthy packaging.
MOQ:20 foot container(2000mm barrier can be placed 260pcs,1500mm barrier can be placed 280pcs)
Productivity:2000mm barrier is about 400pcs/day

Payment method:30% deposit by T/T, 70% balance before shipment.

Applications:Used in road construction, traffic, parking lot, gas company,Hydropower company and Crowd control,Open-air playground/stadium etc.
Structure & functions:
1.PVC pipe with rubber feet which can be adjusted on 360 degrees.
2.Stackable for transportation and storage.Can fix the road warning lamp on it.
3.A Retro-reflective strip provides excellent visibility ensuring that vehicles and pedestrians can see the barricade from a distance.

4.The edges and corners are smooth, avoiding the accidental injury of pedestrians and animals.

5.The barriers are connected to each other by hooks, which is easy to install, collect and transport.
6. Cost-effective Durable and maintenance free construction will not rust to steel barriers
7.Standard barrier colors (Orange, Yellow, White, Blue, Red, yellow-white) with custom colors available
8. Customizable logo display area
9. Practical for both indoor and outdoor crowd control applications
Advantages:
1.Original manufacturer with low price in its industry.
2.Extrusion mold fee will be returned if the order reaches the target quantity
3.20 years experience in extrusion field.
4.SGS certification of raw material .
5.Various material profiles can be customized (ABS,PVC,PC,Acrylic,HIPS,etc)
6.The profiled material has the characteristics of light weight, flame retardant, moisture-proof, waterproof,Corrosion resistant etc.
7.With independent design mold development and formula coloring ability.
8.Professional, patient and enthusiastic service.
9.Short lead-time and mold development time .
10.The first cooperation, the MOQ as low as 3000 meters.
Contact us :
Email:Jessie(at)shangyusujiao.com
Whatsapp:+86 133 7770 7018
LinkedIn:Jessie long
Facebook:lyylyh
Dongguan Shangyu Plastic hardware Products Co. LTD
Contact Person: Jessie
Department: Foreign trade department
Post: sales manager
Telephone: +86-133-7770-7018
Landline: +86-133 7770 7018
Company Address: No. 243, Wenzhou North Road, ZhuanYao Wentang Industrial Zone, Dongcheng District, Dongguan City, Guangdong Province, China
Website: www.shangyusujiao.com